home - photography - writings - more...
---
Miscellaneous Things
Things I wanted to put on this site but don't have a place elsewhere for them.
Note: This page features embeds from external sites, some of which may have tracking content. I'd recommend disabling cookies if you have an issue with this.
You were born during a New moon
The moon is dark in this phase, because the half that's illuminated by the sun is facing away from Earth.
- what it says about you -
You want to leave an impression on people and make your mark on the world. When you love an idea, you'll work hard for it, sometimes even dropping whatever it is you're doing to go on to the next new great thing that's captured your imagination. The more freedom you have to chose what you're doing, the busier you'll be.
What phase was the moon at on your birthday? Find out at Spacefem.com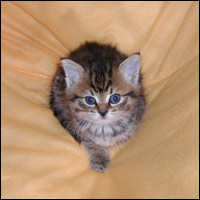 Cute as can be, kittens are playful, mischevious, and ever-curious. Like you, kittens hate getting wet. Kittens are often loving, but are known to scratch or bite when annoyed. These adorable animals are the most popular pets in the United States--37% of American households have at least one cat. Whether it is your gentle purr or your disarming appearance, you make a wonderful kitten.
You were almost a:
Groundhog
or a
Bear Cub
You are least like a:
Monkey
or a
Pony
What Cute Animal Are You?
Your rainbow is intensely shaded
red, green, and violet.
What is says about you: You are an intelligent person. You appreciate energetic people. You get bored easily and want friends who will keep up with you. You are patient and will keep trying to understand something until you've mastered it.
Find the colors of your rainbow at spacefem.com.
---
Miscellaneous Pages
Things I didn't really have a spot for on the "more" page.
The Picrew Collection - I have an addiction to Picrew. Look at the results of my addiction here.
The Manifesto of msx.gay - My thoughts on the corporate takeover of the Internet, and how it killed creativity on the Web.
THE BEST PRESENTATION - THE BEST PRESENTATION YOU'LL EVER SEE!!!!! MADE WITH POWERPOINT 97!
WHY NEOCITIES IS AMAZING - AN EPIC PRESENTATION ON WHY NEOCITIES IS THE BEST!!!!!
---
Made in 2022 by MarshmelloSUCKS using SeaMonkey Composer
Find me on
Twitter
-
Tumblr
-
SpaceHey
-
Neocities